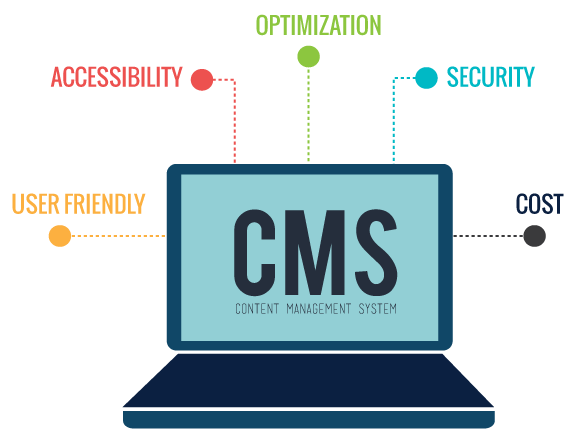 No matter how professional and sleek a website looks, it is nothing without well written and well organized content. However, most of the time, a site's actual content is overlooked since most people are under the assumption that producing and managing content is easier than developing the website.
While it might seem that way, the truth is that web content requires just as much attention as web design. After all, visitors are not just going to look at the superficial aspects of your site. They are going to read or at least skim what your website has to offer and if they do not find anything worth a second glance, they will most likely click out of the page.
Content management is often taken for granted even though it is a crucial factor to a website's success. While researching how to create a website, you may have encountered the term a few times. Content Management System (CMS) is basically a software application or a set of related programs that facilitates creating, editing, organizing, and publishing content. CMS content is usually stored in a database and shown in a presentation layer based on a set of templates. Popular examples of CMS are WordPress and Joomla, though there are numerous other platforms being used today.
However, CMS products were not always around. In truth, content management itself is a relatively new concept.
Brief History of CMS
Way back in the early days of the Internet, there was not that much focus on managing one's web content. Typically, websites relied on static pages being uploaded directly to Internet servers in order to publish their content. You can imagine how strenuous and impractical that method was. Writers could not edit their text easily once their article or blog post was published. They could not keep track of their content, could not organize them neatly for their visitors. Simply put, it was a difficult time for content creators.
Moreover, before Content Management System, content-heavy websites had to maintain hundreds to thousands of HTML files and link them all to the site manually. There was not any kind of relationship between pieces of content and nobody thought of content types or modelling. The Internet's full potential as a marketing tool had not been realized just yet since you needed an advanced understanding of web design and development to get your website anywhere. And back in those days, not a lot of people knew much about building websites.
The problem of organizing web content grew bigger and bigger until eventually web platforms were developed to fix these specific issues. Although the first officially recognized weblog (now known today simply as "blog") was launched as early as the mid 1990s, it was not until early 2000s that these types of blogging platforms really took off. WordPress, arguably one of the most popular platforms and CMS software, emerged in 2003 though it parts of the site was in development two years earlier.
As these blogging platforms gained mainstream popularity, more CMS software were developed. Web platforms like WordPress were eventually utilized for more than just personal blogging. With majority of the population slowly incorporating the Internet to their daily lives, companies and small businesses started using open-source platforms for marketing. In fact, in recent years, commercial CMS platforms are more focused on marketing-specific technologies.
How Does it Work?
Using a Content Management System is incredibly simple. You do not need to create a static HTML file or use any type of coding language. With a CMS, all you need to do is click on the menu to create a new post. You will then be directed to an interface that resembles Microsoft Word and other similar word processors.
The text box is where you will write your website's content and you will find that you can format the font however you want, much like in Word. Displaying an image is also simple. All you need to do is upload a media file on the CMS media library.
After writing your site's content, you can tag your post accordingly so visitors will be able to navigate your articles easily. Organizing your content is particularly important if your website has a lot of posts published.
It is as simple as that. CMS like WordPress have truly changed the game for creating and managing web content.
Content Management System: Pros and Cons
Much like with everything on the Internet, CMS has its pros and cons that you need to be aware of before you jump into launching your website. While there is not much you can do about a CMS's weaknesses and disadvantages, it is good to know what to expect in order to plan alternatives and possible solutions.
Pros
Focus on content writing and editing
One of the main advantages of using a CMS is that you do not have to worry about web coding or the technical aspects of the website. The CMS does all the designing and coding for you. All you need to do is create the content and publish it on your website. This way, someone with only a basic understanding of web design will be able to run a website without having to do the technical heavy lifting needed for the backend of the site. You will be able to concentrate on your site's content much easier.
Compatible with Search Engine Optimization (SEO)
By now you have probably seen this term countless times all over the web. SEO, simply put, is the discipline or process of maximizing one's website visibility with organic search engine results. CMS are known to be very SEO-friendly. You can learn how to optimize your content with helper plugins with CMS. Moreover, you can publish custom page titles, metadata, and adjustable URLS that will make your content super easy to find using major search engines like Google and Yahoo. SEO writing is rather prevalent in CMS platforms.
Fast post updates
Because it is so easy to publish posts on CMS, you will be able to update your website's content quickly and effortlessly too. People are usually more trusting of websites that have frequent updates since it appears more active and reliable so being able to post regularly is a huge advantage. Additionally, you can also update the site's interface components like the menus, sidebars, headers, etc.
Multiple users
Another advantage to using CMS is the option to have multiple users access the website. This way, the website can be kept updated by more than one person. It ensures that, with teamwork and a regular schedule, the website will be active. What is great about it is that every user can have selective access permissions based on their roles. Some users will only be limited to writing and editing their own content while others, like the administrators, will have universal access. By doing so, you can maintain website security while also delegating minor work to contributors. Restricting access also makes sure that consistency is maintained in the website's design since only a select few can access important files.
Most options are free
Perhaps one of the best parts about CMS is that the basic framework of majority of the popular CMS programs today are free. Of course, those free options have limited customization such as premium design or additional security. This is especially great for those without a considerable budget and still hesitant about getting a website.
Cons
Limitations in function
Although most CMS programs offer a wide array of functions, there are just some processes that a CMS cannot run without having to rewrite code. Some CMS programs have functionality limitations so you need to do some research as to what you need to accomplish to check its feasibility. This is mostly a problem for websites with extra multimedia functions as a draw for its audience. There are ways around it but it might require a little bit of tinkering on your part.
Security threats
Unfortunately, it can be rather easy for hackers to break into the CMS platform. You can take extra security measures like implementing a two factor authentication but if you do not have the resources for that it can be a bit risky. That is why it is advised to keep multiple copies of your website's content on a hard drive in case your website is attacked by a malevolent entity and takes down your whole site. At least then you will be able to start a new site easier since you already have your entire website's backlog copied.
Tendency to lag between pages
Most CMS platforms store aspects of a page separately so when you request a specific page, they have to quickly assemble everything. By doing so, your website can seem to lag, especially if your pages have a lot of media files. This can be solved by strong and effective caching but, for the most part, the lagging pages can be really frustrating.
Design problems
Although a CMS program does come with premade templates, it can be tough transforming your website in the exact way you want it to. And if you are a very meticulous person, this can be really problematic. You can overcome this obstacle with the right expertise and skill but you might also need some extra funding as well.
Different Types of CMS
There are three main types of Content Management Systems available online and, in order to choose the right one for your website, you need to understand the differences between the three. Though they have some similarities, each of the different types has their own functions and features that make them suitable for specific purposes. The pricing models are also factors to be considered since each type costs differently.
Open Source CMS
One of the main things you need to know about open source CMS is that you can download the software at no initial cost. License or upgrade fees and contracts are not part of this type of CMS. However, you do have to buy additional services such as: customization beyond the software's core offering; compatible templates, add-ons, and plugins (free versions are available for some CMS platforms); software support and updates; and technical help upon first installation.
You can even install and manage this type of CMS on a web server. Numerous customization options are available to meet your possible different business needs like plugins for e-commerce sites. You can also download tools to help optimize your content for search engines and you can customize your website with countless web design themes and layouts.
The most widely used and popular Content Management Systems are open source. WordPress, Drupal, and Joomla are just a few examples of this type of CMS.
While open source CMS is the more popular choice because of its accessibility, it does have its drawbacks. One of the main issues people have with this type of CMS is the security risk. An open source CMS is more vulnerable to online attacks since anyone can see the code being used.
Proprietary CMS
Unlike open source CMS, proprietary CMS generally involves buying a license fee to be able to use to software and even paying additional monthly or annual charges for updates and support. Moreover, there is also the costs for customization and upgrades, not to mention ongoing technical support.
Proprietary CMS is also known as commercial CMS and is built and managed by a single company. Generally, this type of CMS is great for agencies to create their own websites to suit a specific market. Sites utilizing a proprietary CMS can be developed to have the functionality some specialized websites require. This type tends to be more user-focused than developer-focused.
Some examples of proprietary CMS include Microsoft SharePoint, Kentico, Shopify, and IBM Enterprise Content Management.
However, this type of Content Management System is owned by one company so you are pretty much stuck with them until you cancel your license or move to another platform. And even if you do move out of the platform, it can be a bit costly for you to do so.
Software as a Service (SaaS) CMS
Lastly, there is the SaaS CMS type where you are only "leasing" the application or a portion of it for your website. Take note that you are paying for the use of the CMS software and not the ownership of it. With this type of CMS, you configure the application for your own use which means you can create templates for design preferences, setup forms, and the like.
This type of CMS is usually priced on a per use and per site basis. When you pay for a SaaS CMS you are paying for storage for your content and data, the amount of data transfer, and also ongoing support.
SaaS CMS is typically great for small and medium sized businesses with a modest budget and not enough resources to develop a custom website. The set-up fee for a SaaS CMS is generally low and the software is accessible from any computer or device. Clients can even access content in real time through stable Internet connection. Moreover, you can add more sites or users as your website's needs grow.
This type of CMS exists in a hosted or cloud computing environment. It can either be a fully cloud CMS or a partial cloud CMS. Some examples of this type of Content Management System are Box.net, Google Docs, and Acrobat.
Five Common Content Management Systems
Now that you've gotten a pretty good idea about CMS, let us talk about the popularly used CMS and their individual features and advantages.
WordPress
This is quite possibly the most popular Content Management System since it is ideal for beginners and experts alike. It has excellent documentation features and incredibly quick installation.
While WordPress is primarily a platform for blogging, countless non-blogging websites have come up from this CMS program, from simple multi-page brochure style websites to functional online shops to legitimate social networks. WordPress is definitely a versatile platform that just about anyone can use.
Moreover, WordPress has a large community of developers with lots of tutorials available for anyone to read in case you ever need help. In fact, WordPress is known for its documentation of customizing nearly every aspect of the platform. There is a huge chance you will find a WordPress tutorial of whatever you are planning with your website. The community is that wide and zealous.
This platform is also free to download but you will have to pay for hosting if you choose to do so. And with thousands of plugins and specialized themes, it is quite possible to make any kind of website. WordPress' dashboard is also simple and easy to navigate so you will be able to manage your content without a sweat.
While, for beginners out there, WordPress' user friendliness is an advantage (it is considered to be the easiest CMS to date), it is also a disadvantage when it comes to security. Unless you install additional security measures, your website can be vulnerable to hackers.
Drupal
Although this platform is not as popular as WordPress, it does have a very large community. This platform does not really focus on blogging and is more of a pure CMS. High profit companies (New York Observer, MIT, Sony Music, to name a few) use this CMS platform because of its plentiful features for building internal and external websites. It also has a lot of tools to help you organize your content.
Drupal offers a lot even with a plain installation. You get a ton of optional modules that gives you access to extra features such as user blogs, forums, profiles, etc. You can easily create a website with social features and, with some third party modules, you can even create site clones with minimal effort.
One of Drupal's advantages is its active community. There are countless forums and even real life events. Like WordPress, you can several tutorials about everything you might ever need in setting up your website.
Another popular feature is the Taxonomy module which allows for multiple levels and types of categories for content types. And if your site is content-heavy, you will definitely find this feature useful.
Joomla!
This particular CMS may not be as user friendly as the previous ones mentioned, it is very reliable and flexible. Joomla is even used by prominent companies, both for websites and for backend networks. Joomla can be used for a variety of purposes and is more advanced in terms of functionality.
Like Drupal, Joomla is a complete CMS. However, it is a bit more complex compared to other CMS platforms. It has a sleek administration interface that is fully functional as well. This CMS also has extensive support for access control protocols.
One of the disadvantages to Joomla is that it does not have as much in terms of high quality free themes like WordPress. If you want better themes, it will cost you a pretty penny.
SilverStripe
This CMS behaves a lot like WordPress though it is designed more for content management instead of blogging. It also has a lot more configurable options than WordPress.
One of SilverStripe's unique features is its customizable administration area for clients. Besides that, it has content version control and native SEO support. SilverStripe's development community is not as large as other platforms but there are still plenty of themes, modules, and widgets to choose from.
Additionally, this CMS does not come with a lot of style on their themes so you, the designer, will have more freedom to modify your site accordingly.
Texpatte
Then there is this CMS that is quite beloved by designers thanks to its simplicity and elegance. Texpattern is very minimal with a code base that is effective and simple. This CMS's backend is also quite easy and intuitive to find your way around.
Texpattern is more concerned with creating well-structured, standards-compliant pages. It does not bother with a lot of extra features that are all the rage with other CMS platforms these days. Instead, Textpattern utilizes textile mark-up in the text areas to create HTML elements within the pages of your website. As a result, the pages generated load extremely fast and are very lightweight.
For those who want to add more functions in Textpattern, you can get third party extensions, plugins, or mods.